Remote secretary services - Call center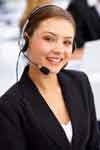 Our company QMS specializing in telecommunication support services and having invested in an important technological infrastructure, confidentially, always respecting the confidentiality of conversations and the secure communication of our customers based on the Data Protection Authority, offers telegraph services and call center.
The telegraph service is addressed to freelance professionals, mainly lawyers and companies, in order for the callers to always find you at their service every minute of the day answering the phone, without disturbing you from perhaps unnecessary phone calls, while minimizing your operating costs.
QMS offers you a free connection without payment, a personal telephone line, where you can divert calls via your mobile phone, from any landline or even give your customers your personal number directly.

Your call goes directly to our call center and our specialized staff responds with your name politely, providing information to callers, keeping orders, arranging appointments responsibly, consistently and professionally noting all the necessary information according to the instructions you have give.
Call center - advantages
The call center service ( outgoing calls ) supports:

- Telephone promotion of products and services
- Telephone information and service
- Telephone customer satisfaction surveys

We have the ability to multiple incoming calls which we process in the best and fastest possible way. Do not miss your business opportunities, because all your customers are served just as if they each talked to your personal secretary.

We also undertake the management of incoming - outgoing calls, the receiving - sending of faxes , the delivery of the incoming information with the following options:

- Instant telephone update on landline or mobile
- Send a fax with relevant information
- Update via email

If you have a personal secretary, direct call forwarding can address external needs while indirect call forwarding (in case you do not receive the call) has the ability to organize and arrange internal tasks without the stress of calls.

We keep a detailed card of our subscriber incoming - outgoing calls, voice duration, contact number, charge per second, statistical study.

collection of your account is done with cashier at your place without any financial charge or by deposit in a bank account or via internet.

Telegraph services are offered to our customers from Monday to Friday 09.00 - 21.00 except public holidays.

In this way you gain the flexibility of your movements, the increase of your productivity, as well as your correct professional image.

Our main goal is to increase the professional performance and communication capacity of our customers.
Special programs are available at affordable prices
for subscribers with a monthly traffic of 400 minutes or more
Choose the program that suits you
:
Fixed cost
Free time
Characteristics
Economy
35 euro
60 minutes
charge per minute from 61st minute
Classic
55 euro
100 minutes
charge per minute from 101st minute
Classic plus
75 euro
150 minutes
charge per minute from 151st minute
Business
95 euro
200 minutes
charge per minute from 200th minute
Business plus
125 euro
300 minutes
charge per minute from 300th minute
The above prices do not include VAT 24%